The customer's experience should be as smooth as possible.
Remove any possible obstructions between you and the sale. It's fundamental, and yet is an area prone to rookie error. Here, I present a series of marvels within the Conversion Rate Optimisation process or CRO.
It is an ongoing process, so be sure to refer to these points regularly, as you can be sure to benefit from this knowledge later. I can't stress enough how vital this is to the success and survival of your product. That's why we're going to take a moment and learn a thing-or-two.
We'll explore the realms of quality and quantity, from rational to irrational. Ultimately reading this article will broaden your knowledge of the process of defining optimisation opportunities, and ensure that sweet, sweet ROI.
Quantitative Methods
Web Analytics
It all starts somewhere, and the bare figures should say it all. If they don't paint the entire picture, they certainly reveal vital clues in the masterpiece.
Google Analytics tools take the lead here. All you need to do is access the Behaviour report, Site Content, before finishing in the All Pages section. Once here, you can refer to the Pageviews and Unique Pageviews columns to find your site's most accessed pages.
It's also essential to analyse the sales funnel step-by-step. In the case of e-commerce: start from the homepage, before moving on to the categories page, to the product page, then the 'shopping cart', checkout initiation, and any other steps concluding the sale. In the case of B2B, be sure to analyse keywords, whereas in the case of SaaS, be sure to convert via trial before opting for a paid plan, and so on.
Conversion rate is a simple calculation. Take the number of sales conversions and divide it by the number of users. This number will present in percentage form, becoming your benchmark or number to which you will base your site's performance.
Product Analytics
The practice refers to a process that helps analyse users and improve their overall customer experience. By automating data management and collection, it allows for an enhanced digital footprint understanding of these users.
The key players who would stand to benefit from this would be product leaders, designers, and developers who use this data to guide decision-making and ultimately, milk that revenue stream to its best.
Qualitative Methods
Heatmaps
Heatmaps are the visual learner's single greatest asset. By providing colour-coded (heat-scale) illustration of activity such as mouse movements, and most-clicked areas – it's a UX goldmine. Through simple association, users can identify areas of interest promptly and effortlessly. Consider click maps and scroll maps for in-depth user activity information.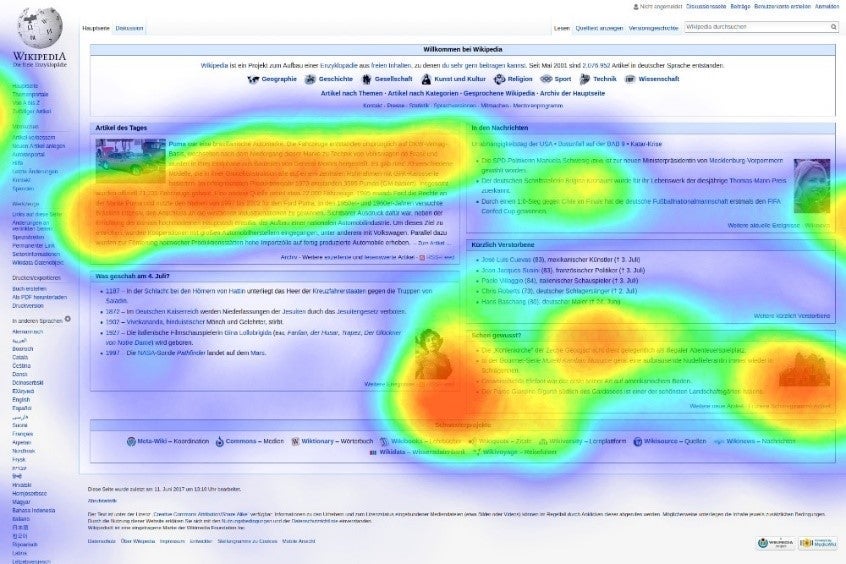 Session Recordings
Session recordings are another critical area of measurement. Actual videos featuring user journeys, with cursor trails-and-all, are the most obvious way to demonstrate the success or failure of your website. This kind of quality analysis often shows just where exactly where the user conversion process reaches a standstill. You may discover users struggling to search for their desired element or are dealing with bugs on the page.
Some great examples are:
Online Chat
A handful of clever techniques exists here and entails a suave combination of automating the personalisation experience and communicating key consumer insights. Crucially, this tool should be used to collect information and identify frequent user problems.
Some suggested areas of the online chat function could be greetings, personalised customer service, chat invitations to avoid cart abandonment, experience surveys, and effectiveness tracking.
Customer Review Sites
The main point of these is to gain valuable user feedback. The kinds of relevant review sites genuinely depend on your business. Yelp is useful for restaurants, as is TripAdvisor for hospitality and attractions. The Better Business Bureau is well-suited for e-commerce (mainly US-based), as well as onsite rating platforms, such as those on Booking.com, or Amazon. Even the likes of Google can share some valuable UX intel.
Usability Testing
How better evaluate a product then by testing it on the users? Direct feedback is guaranteed and awards precious insight into design intuitiveness from individuals capable of delivering a fresh perspective. User-centred interaction design relies on this technique.
Interviews
UX designers or researchers can collect information from test subjects from within various project stages. This can happen through the observation-centric ethnographic method or the more intricate In-depth method. We discuss the details of interviews in our 10 UX Research Techniques article.
Think of these open-ended questions, in an effort to gain high-quality answers to questions:
When locating the add to cart button, how long does it take to find it?
How can the payments page make it easier for your next purchase?
How long does it take you to finalise a sale?
How clearly does the language provide instruction?
When conducting interviews, be sure to regard the following key stakeholders:
Customers – Direct, unfiltered, and subjective. Real feedback from end-users can provide an unfettered human perspective to the use of your product. Unlike usability testing, which still employs some form of analytical interpretation – here, you can expect kind or even brutal words of wisdom.
Customer Service – The frontlines of customer interaction are the vital and undisputed link between the business and the users. In practice, these individuals often deal with customers at 'their worst', learning of real end-product underperformances, or critical procedural failures unbeknownst to product designers.
Sales – When in the field, seller teams will face scrutinising questions from potential buyers. This is vital, as when carrying out their role, they will also recognise pressing customer needs and requirements that bare during the sales process.
Focus Groups
A setting for constructive, moderated discussions with pre-selected profiled users. With a professional mediator guiding the interactive session, you can gain insights from perspectives akin to real interviews but delivered on a more systematic, and organised basis.
Surveys
Many features and aspects of your app and service are best-expressed in structured, and written form. Using a sprinkle of quantitative and a dash of qualitative measures, you can create a concise, interpretable, and revealing product assessment tool. Be sure to give Google Forms or Typeform a try.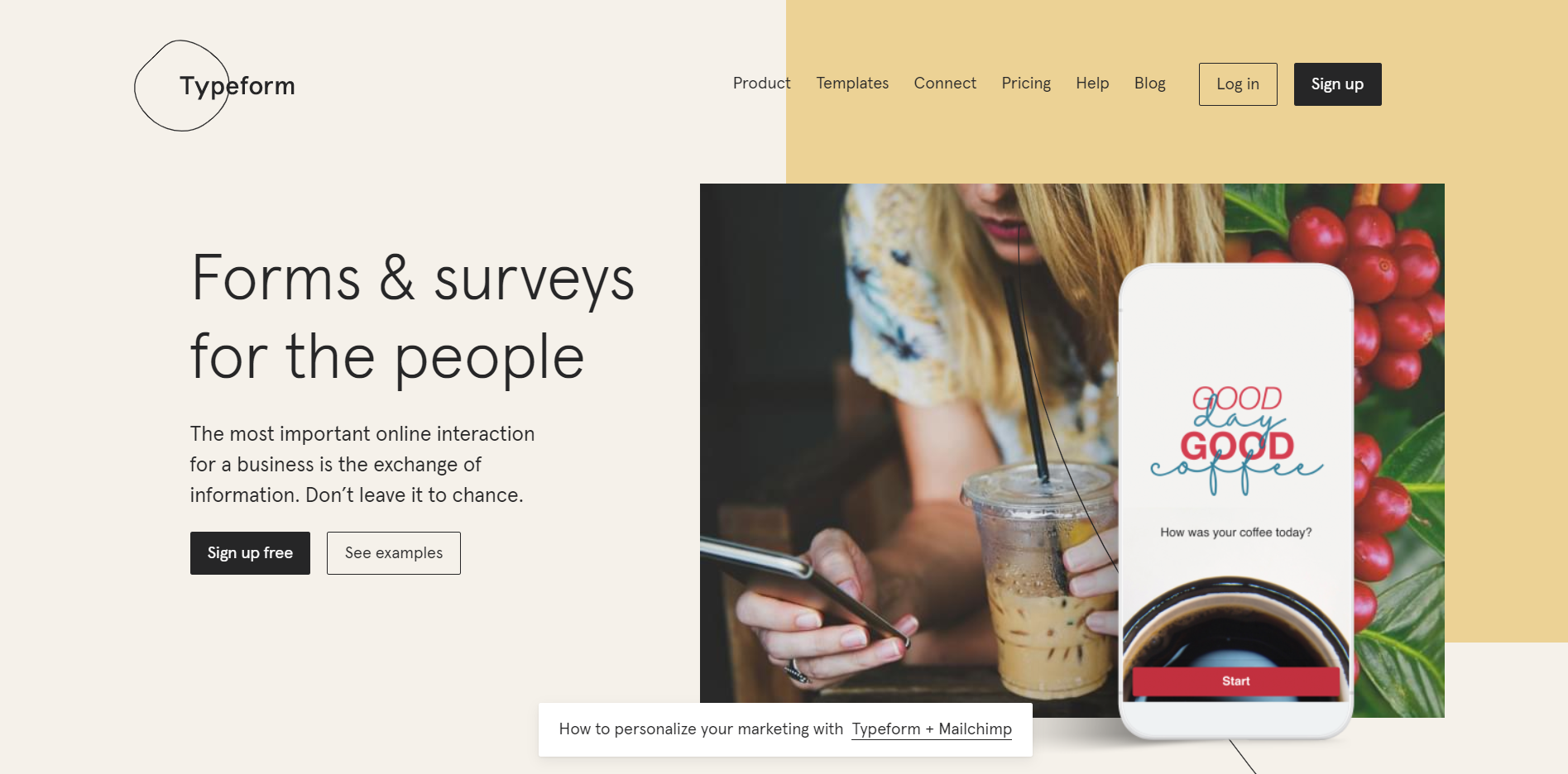 Other Methods
Market Data
Numbers don't bite – but they bark rather loudly. Whether collected in-house or via a third party – such as statistics bureaus, or market reports, statistical evidence provides multiple levels of situational awareness. Interpretation can be time-intensive but completed right, can expose vibrant geographic, contextual, behavioural, and customer-centric material.
Scientific Research
Academic research can help improved desired actions within your page. In obtaining such a sophisticated level of information, I can suggest adhering to the following phases:
The scope is broad for sources within this option. In this case, you can refer to materials from Google Scholar or purchase research reports detailing studies and knowledge from institutions such as Berkeley.
Competitors
How are the neighbours doing? Performance info on similar, or closely-competing products can be your vital canary in the goldmines of the marketplace.
Research quality can vary, but some case studies and company performance findings can be made available openly revealing a picture of user interaction and behavioural patterns.
A more hands-on approach is always a capital idea. In this case, I recommend a SWOT analysis, as well as the entire sales funnel, the purchasing journey, and other related processes.
Historical Test Learning Iterations
They say that the school of hard knocks might be the most valuable of them all. If you had the chance to perform and test previously, such as through A/B tests, then you're already on the right track.
In line with Agile principles, test learn iterate strives to guarantee continuous improvement in a product. Within that process: prototyping, testing, analysing and refining a product requires a cyclical approach.
Learning from experience is an excellent method, giving your team crucial know-how on the workings of your product.
Create a list of optimisation ideas
Based on these insights and gatherings, you should prepare a list of growth ideas, each hypothesised and rationalised. You've likely come up with many ideas. Now it's time to prioritise them, concerning limited company resources. A simple way to achieve this is using the PIE model:
Potential
Importance
Ease
The PIE model analyses three criteria to prioritise tactics to test, and in which order.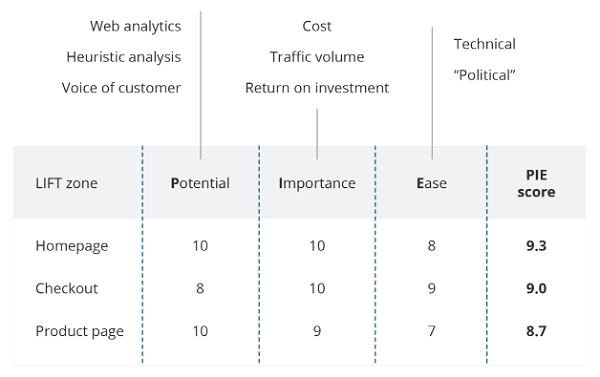 By quantifying each of your potential opportunities, you can create a test priority list. Using PIE Framework within a table, you can turn data inputs into an objective number ranking, highlighting your potential 'quick wins'.
Conclusion
The above is a pick of some of the most popular and proven methods of identifying Conversion Rate Optimisation opportunities. That list grows, as new and more sophisticated techniques continue to exist.
Of course, it's an ongoing adventure. And as I had mentioned earlier, this is a constantly-refreshing process. In terms of CRO, it's just the tip of the iceberg. Once you've completed these first two steps, then you can move on to testing, analysing, optimising, and repeating.
Conversion optimisation is itself a masterpiece. But even humanity's most iconic works become restored, retouched, and re-evaluated.
Our best advice is to explore each method in achieving an improved Conversion Rate and return to them methodologically. With such continuous attention, you can defend your competitive advantage, boost sales, curry favour with users, and nail your key performance indicators.
This article was written as part of collaboration between ExtraHut and Growth Collective.