Even with a positive attitude towards User Centered Design, it's challenging enough to estimate the exact ROI of UX. Sometimes this is the reason why businesses can't imagine the value of user experience and, as a result, they don't invest in it.
So how to convince CEO to invest in UX?
In this article you will learn how to talk about design so every businessperson could understand you. In a nutshell – use their language, for example by using UX metrics and ROI (Return of Investment).
What exactly can we improve with better design?
Even though holistic measurement of user experience may be difficult, you can combine the context of measurement with simple metrics. That is enough to establish whether the quality of experience has improved or not. Every product has different essential UX metrics depending on targeted user groups or product income sources.
Areas connected with UX improvements can be divided into 3 categories: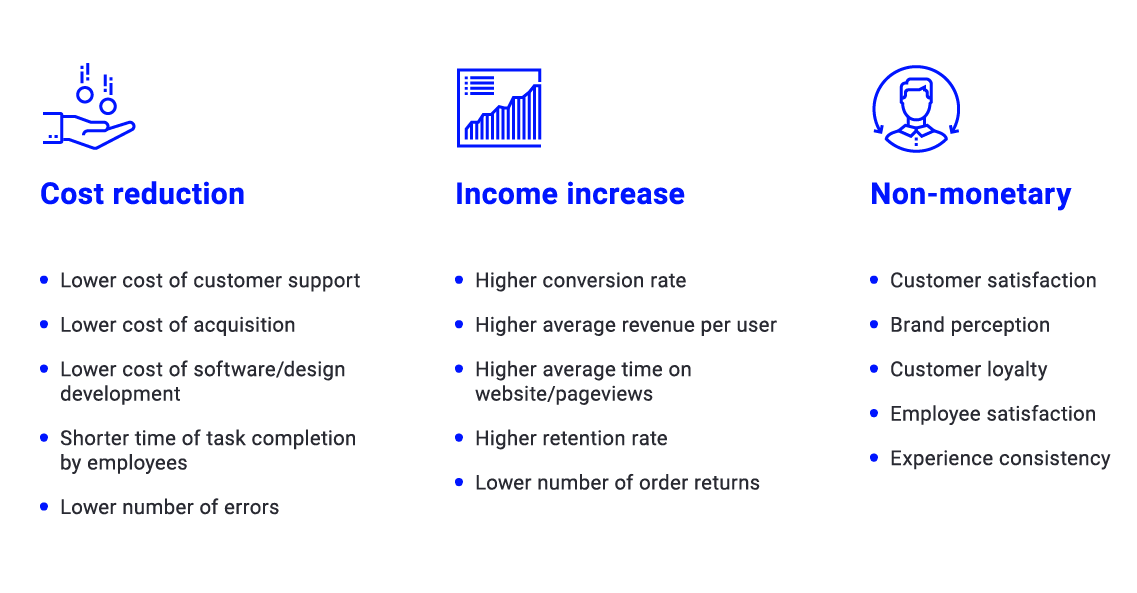 If your product is used by employees (for example ERP software, measurement databases) the most important aspect to note is cost reduction.
For commercial applications designed for external customers, e.g. e-commerce platforms or news portals, increasing incomes usually plays a bigger role.
Non-monetary aspects are a little bit harder to measure and require dedicated research methods. It doesn't mean that they are less important, but let's just say it's the next level.
Always start with a business case
Knowing which aspects bound to the experience quality might be important to your business, but might be not enough to convince others to the changes. Probably (and justly) you would hear a question like:
"Is there even any User Experience?"
Or:
"How can we be sure that this will be profitable for our business?"
In reality, don't take these questions as an unprogressive scepticism to the UX. We also do not recommend redesign if your customers are not sure about its purpose.
And here we go to the most important part – making business cases with UX metrics to justify changes.
Everyone likes numbers
Ok, maybe not everyone, but decision makers need to see them to believe that changes will benefit them (or their business) in the future.
The most popular indicator which decides how profitable changes is the Return on Investment (ROI). To put it simply, ROI is a financial metric used to calculate an impact of your investment on your net profits.
In most of the cases you can estimate the ROI of your actions. How can you do it? Here are two examples:
Example #1: Business case for ERP software
Let's assume that your product is an internal database for collecting measurement data. You can see that the process of data completion is time-consuming, or that users make mistakes which require time to fix them. You can assume that a partial redesign could eliminate some of these errors and reduce the time for task completion.
Say you have 30 employees who gather data, and that the average time of task completion is 30 minutes. Furthermore, one hour of their work costs 15 EUR. We assume that you can reduce completion time by 5 minutes (we can try to estimate this value based on problems found during usability audit).
Fixing errors made by employees costs an additional 20 minutes of work per error, and with that, the average numbers of errors per day is 3. Let's assume that by good usability research we can decrease number of errors by 80%.
Finally, let's say that implementing changes will cost you 10,000 EUR. The image shows how long it will take for this investment to show results: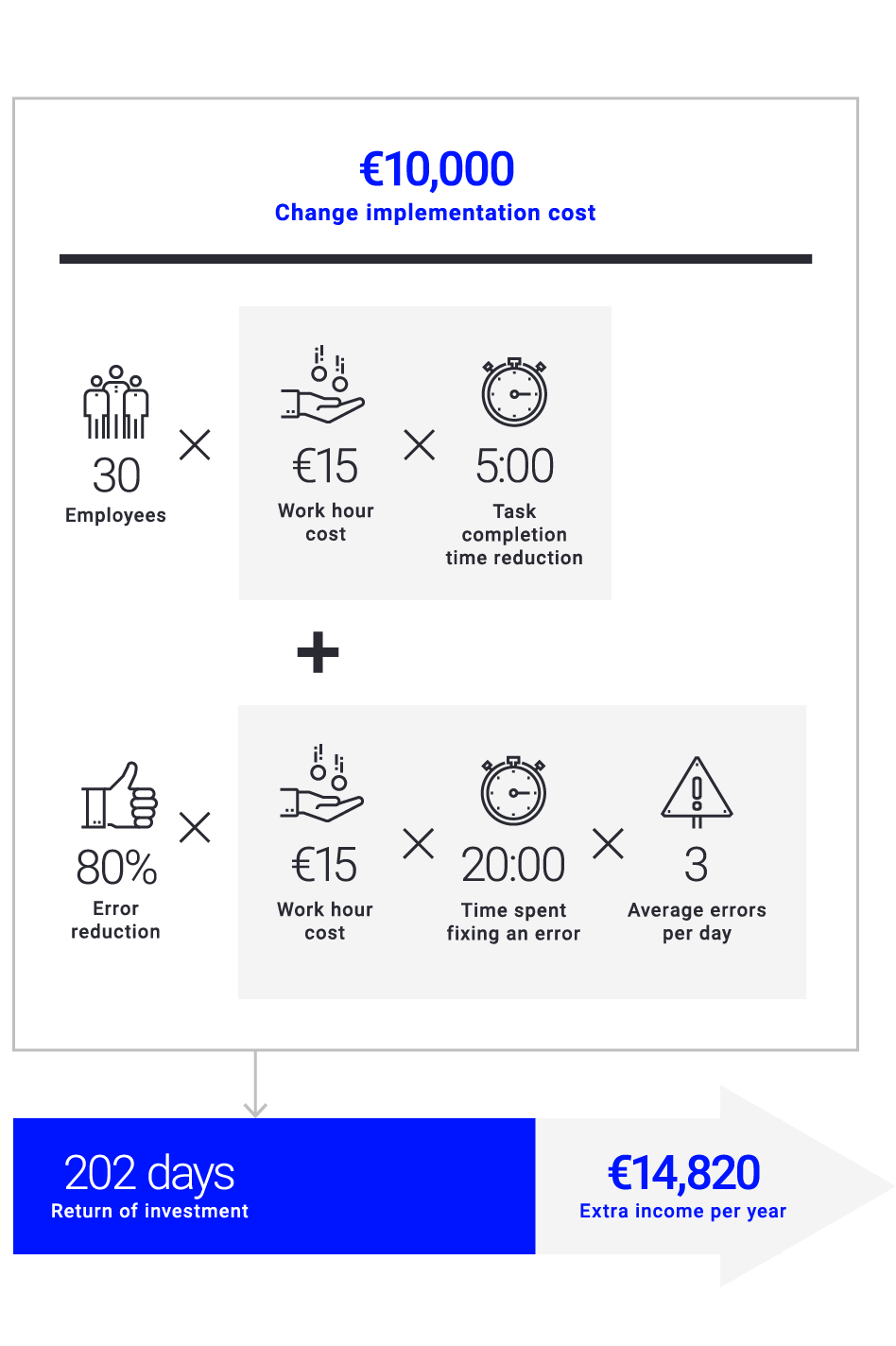 Example #2: Business case for e-commerce
Based on industry benchmarks, you found out that the desktop version of your e-commerce platform has a worse conversion rate than the competition. You have 1.8% CR compared to the industry average of 2.1%.
You can assume that if usability is the reason for such a state, a redesign process will improve your CR at least by 2.1% (probably even more). With the average order value of 100 EUR, and 40,000 users a month, a 20,000 EUR-valued project will take 1.6 months to bring profit.
Of course, these are just exemplary estimations. Nevertheless, you can use a similar calculation to decide whether it's worth implementing these changes to your product or not.
Also, if you need to compare different ideas for what you can improve in your design you can make a prioritization by estimating ROI of each solution. Since you know the general idea behind calculating ROI, let's see how you can do it step by step.
Calculating the ROI of UX step by step
1. Consider why you want to change anything
If you want to redesign a website, what are the metrics that you would like to boost with a new version? Or if you think only about specific existing or new feature – what is the type of performance you want to improve?
Whether you want to reduce the costs, increase revenue or boost your brand's recognition, be sure to make your goals clear from the beginning.
2. Know what the current state of metrics is
Knowing the state of metrics you want to improve is always fundamental for ROI estimations. Usually it's not a problem to define a current state in e-commerce. In other cases, it's worth doing your own research.
If you have no idea what causes the errors you'd like to improve, try to look at your analytics data, heatmaps or perform usability tests.
3. Discover desired outcomes
This is quite a challenging part, and there is no one-and-only solution. Discovering your project's outcomes is easier when it comes to cost reduction or increasing revenue.
For example, if you know what causes the errors on your site, you can assume that good design & research can reduce these problems by 80%. Striving for 100% might be disproportionate to the results and can make your estimations unreliable.
To discover how you can reduce the time of task execution, it's worth to consider what kind of problems you're dealing with. How many redundant operations your employees have to do? Are they manually entering data that can be scanned? Or maybe they use some default values? Then, compare your discoveries with the entire time of task execution.
When it comes to redesign oriented on increasing incomes, start with benchmark reports. Some useful resources are e.g., Wolfgang Digital's KPI 2019 report, Baymard Institue's UX benchmarks, Growcode's 15 ecommerce Conversion Rate statistics, or SmartInsights' ecommerce conversion rates.
If you can say that some features or flows were poorly designed in terms of usability, you can establish very small values for conversion rate improvements (like 0.05%) and see how this number will work as a business KPI. Even such a small number can bring a big income. You can easily estimate some numbers if you have done usability tests.
4. It's time to make calculations
Every metric requires a different approach. Here's what you need to remember:
UX improvements bring value every day.
If a single change may impact different metrics, combine them into one calculation (as we have shown above).
Calculating ROI of UX, consider different target groups, users' behaviours or a type of device they use.
Sometimes a generalization is fine, but usually you have to differentiate based on data analysis or tracked user performance.
Also take into consideration that if you plan to improve e.g. a feature on a product page, the change will influence only this part of traffic that is already visiting product pages.
5. Run A/B tests to confirm your assumptions
If you want to make sure that your estimations will get acceptance from the business department, you can perform A/B tests or just inform your colleagues about such a possibility.
Note: You can apply this advice only if you want to test smaller improvements.
6. Presenting the business case
Of course, except presenting your calculations to your supervisors, it's worth mentioning what it is precisely you want to redesign.
Sometimes ROI of UX is used not only to decide if changes make sense from the revenue perspective, but also to prioritize which ideas are the most valuable. So, it's a very important tool even if UX is perceived as an inherent part of a strategy.
And please, never forget about non-monetary values – including the current impact of changes on them.
Focus on the value of change to win your managers' hearts
Many UX enthusiasts perceive decision-making managers as an UX ignoramus, who will never understand what UX is. Even if they have a passion for understanding user needs and behaviours somehow, they cannot translate this passion to understand their co-workers.
We – UX Evangelists – often forget that our managers are personally responsible for the financial performance of the company. They are trying their best and as every person they want to make reasonable decisions. They just need to see the value of changes.
So, let's answer the question from the beginning of this article, which is how to convince your CEO to invest in UX.
Use your empathy like they were your end users and explain in their language the potential ROI of UX for the business. Let's help them understand that UX is not only a loud hype trend.