Here's a fun fact.
There's a chance that you're already using some rendition of the Conversion Funnel. That is if you're selling something.
Conversion Funnels are a nifty concept. It's a method for helping to understand customer flow. And, if you're selling a product or service – then your strategy will be adhering to its principles.
What is the Conversion Funnel?
It's a metaphor. At no point will you see an actual funnel. But try picturing the shape of a funnel. There is a wide inlet at the top. That narrows into a smaller outlet located at the bottom. Visitors to your site will travel from the top and into the bottom of the funnel.
The process is as follows:
A user will visit your site.
This user will interact with your website.
Each step they take will be a step closer towards 'conversion'.
At a certain point, a customer will take the desired action, i.e. convert.
The structure of the funnel is as such that each website feature should optimise. This way, the funnel is smooth, for the conversion to occur at the end. Conversion funnel effectiveness measures by a conversion success rate.
By the way - the funnel is not a vacuum cleaner! The analogy does not refer to attracting conversions from the outset. A conversion funnel is a precise tool 'pulling' the desired subject through.
Note that throughout the user's visit to the site, they will interact with it. Depending on their desire for information, they may seek information elsewhere.
Why is this Important to Optimise?
We want to ensure the best possible effectiveness of conversion funnel. Sales teams will agree. On average, only 97% of all prospects entering the funnel do not become conversions.
Pardon the simple arithmetic for a moment. What this means that despite your efforts, you yield only 3% returns.
By travelling through the entire funnel, visitors will have converted, by performing any desired action you wish to set. This can be making a purchase, providing contact details, downloading, signing – the list is endless.
Just as the funnel should ensure good flows of people – they should be carefully maintained so as not to lose any prospective customers. These funnels must be useful in that they bring attention to your business.
It is also a great tool to show from where your customers are leaving your website without converting. That is an excellent way to identify conversion barriers, otherwise known as friction points. Once you've found them – you can destroy them.
The 6 Main Elements of a Conversion Funnel
… & What to do About Them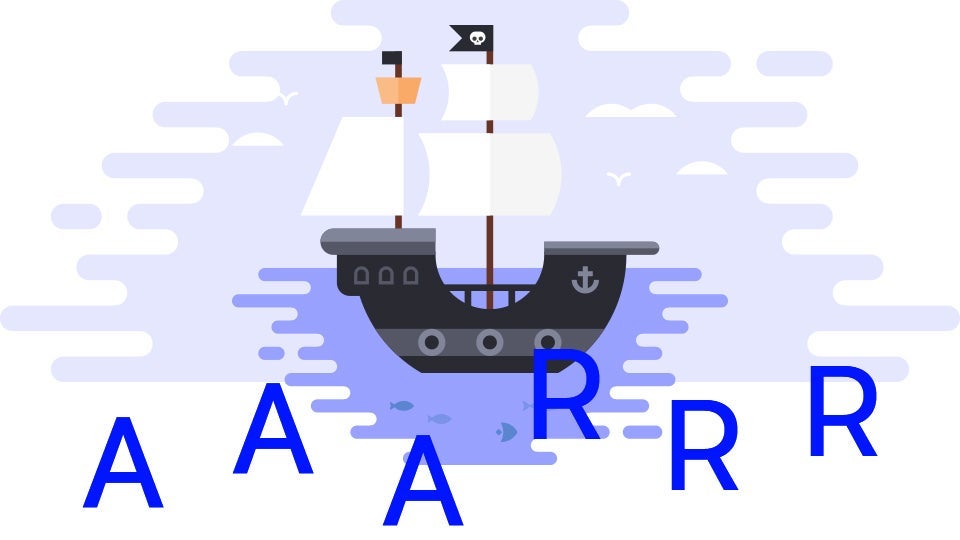 I have considered a great many different models. In digital marketing, a metrics-based conversion funnel would strongly associate with the AAARRR model. Owing to the sounds of the acronym, these are also known as Pirate Metrics.
These are a method of categorising different metrics and KPIs, and consists of metric categories; Awareness, Acquisition, Activation, Revenue, Retention, Referral. Now you see the AAARRR?
Awareness
Get their attention by emphasising brand-building in your marketing strategy.
Be sure to set it all up. Make your brand recognisable on a range of advertising media. From traditional channels, such as television and radio, to billboards or paid social media appearances – it all contributes to getting your brand out there.
Bring more of your story out there. As this happens, people will familiarise with your brand. But don't just put your name out there and yell it! Make sure it coincides with objectives lower in the funnel. In other words – use a call to action.
Metrics: Impressions / CTRs / Minutes on Page / Likes / Shares
Acquisition
The first point of exchange with a customer.
You're not exchanging information. Not money. This can be a PDF Whitepaper download, Seasonal Catalogue, or Special Coupon Code.
In these instances, a prospective customer would then provide relevant details that can help you build a 'customer profile'. That would also be used in-kind to retool your product and its positioning. Using this newfound information, you would then fashion a unique campaign designed to reflect the demands of your identified customer.
Here, you're solving their problems using content.
Metrics: Leads / Email Addresses / Subscribers / Asset Downloads / Info Chats
Activation
People are giving your product a try!
A sure-fire way of bringing people on to your product is activating your product. What this means is to simulate a purchase, such as a 14-day trial. Many can relate to purchasing streaming content, like Netflix or Hulu.
Call them what you will, they're sample product offerings.
At this stage, you are solving a problem through an actual product offering. How many features you plan to share is your prerogative, but the more extensive, the better.
Metrics: New Trial Signups / Loss-Leader Sales / Free Product Version Users
Revenue
Real money exchanges for a real product.
There are no metaphors here. You have a customer - hopefully even several! How this appears is; first month's payment, the customer has purchased a product, signed an agreement and provided some level of deposit.
Commodities may have changed hands. But this is far from completing the funnel. At this point, your business model may undoubtedly count on repeat business. In this case, your next focus will be maximising the information you have at your disposal and to ensure continued transactions.
Fortunately, the efforts involved will be far less strenuous as would be from a brand new-prospective customer. Take care to ensure the checkout process is smooth, and look out for card abandonment, sales measurables, and the UX experience at this point.
Metrics: Customer Acquisition Cost / Trial to Paid Conversion / Purchase Quantity
Retention
How much more can we provide for our customers?
Generate incremental revenue from clients. Consider upsells, product extensions, or complimentary services. If your e-commerce platform sold a patented alternative ionising toothbrush, then perhaps the customer might also be interested in some organic, Himalayan charcoal toothpaste too?
I can simplify the analogy - chips and dip.
For SaaS, this entails offering an upsell, or value addition to your product. Perhaps a customer wishes to authorise more devices to operate their subscribed software? Lucky you made a product for that!
In all, keep your customer interested. Encourage them to continue subscribing and spending with you. That might mean being creative, with email marketing, and throughout the product's usage lifecycle. But that's right up your alley!
Metrics: Customer Retention Levels, Customer Churn
Referral
Would your customers - really - recommend your brand?
Nothing is more powerful than word-of-mouth marketing. According to Nielsen, customer reviews and recommendations drive 84% and 70% of purchasing actions, respectively. These are very telling numbers. Yet, an actual 29% of respondents make recommendations to peers.
In the age of social media, this is a challenge that could prove very fruitful. Key behaviours, such as sharing and interacting with a brand on their social media, can lead to repeat purchases. But in all, the more interactions a product receives, then the more awareness it attains.
Encourage referrals, as they encourage new business, but also reinforce old business.
Metrics: Net Promoters Score, Referrals & Shares
Conclusion
The funnel is a surprisingly stubborn instrument. But getting it right keeps it slippery! Keep customers interested beyond the initial purchase. Your strategy, therefore, should be to ease desired actions.
Start with the homepage and reduce poor quality traffic to improve user relevance. Next, by optimising the product service page, you can boost quality and sustainability. Improve calls to action on the contact page, and finally, smoothen the checkout process.
Many metrics can suit a product. But when considering the Sales Funnel, I like to opt for Pirate Metrics, as above. They address not only the process but the digital challenges for site creators. With plentiful competing information, our burden is to provide desired solutions and help guide their choices.
As far as the funnel goes, people will naturally leave – but to improve it will ensure lucrative returns, regardless. The subtlest changes make for the biggest results. If your effectiveness rate is the current mean, then an additional 2% optimisation increases enquiries by 66%.
Be brave, be authentic, and be creative. Follow the above advice as often as you can. Getting the funnel right will prove positive returns!