There is no such thing as one UX design process – the stages will depend on the project, your client, project's objectives, and a plethora of different factors.
We can, however, assume a general process flow that, with small changes, can be applicable for different situations. Similarly, the technics you may use at every stage vary, so I will show you exemplary tools and techniques to apply.In this article, I will walk you through the stages of the UX design process you can follow, tweak, and apply in your project, no matter the circumstances.
Stages of the UX design process: The Flow
UX design process is iterative, meaning there's always room to improve and upgrade over time. It is, though, made of consecutive stages you should follow for the best outcomes.
The idea behind following each step is simple – each one of them, starting from planning, sketching, design, launch, to analysis and evaluation, brings additional value, as you give yourself time to make assumptions, implement them, and see how the resulting solution works for you.
The process, in general, may look as follows: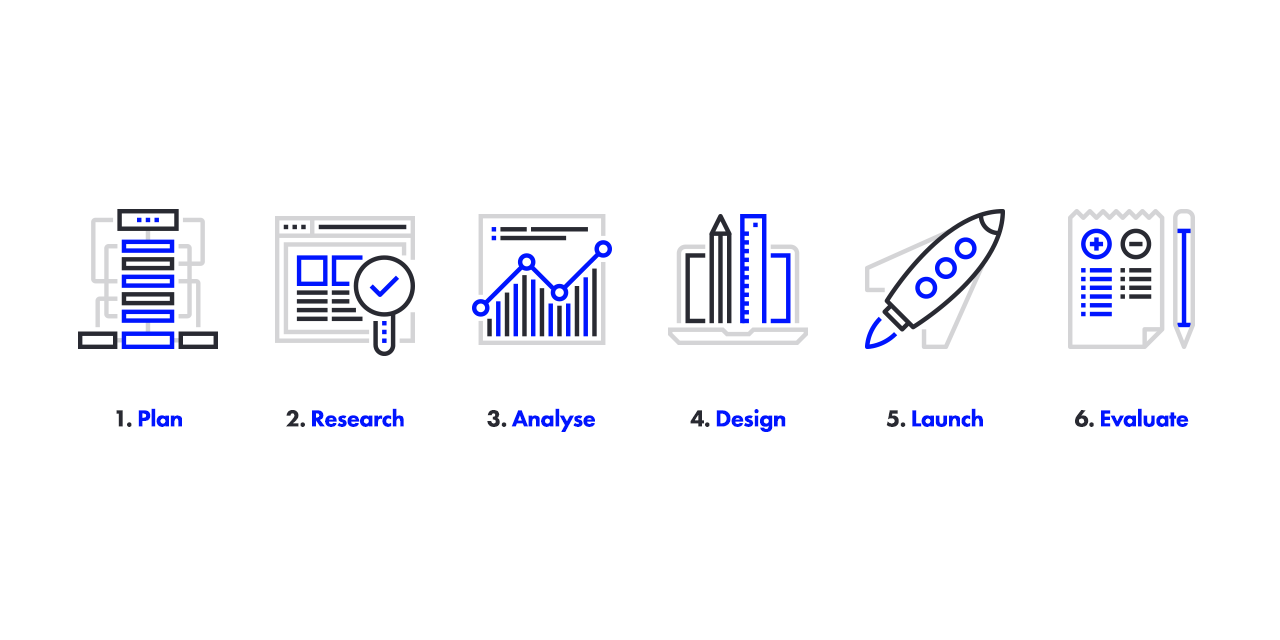 Let's now break each stage down and discuss UX design process steps with more details.
1. Plan the project ahead
Each project should start with thorough planning, right? Easy and straightforward as it sounds, this step is – ironically - very often being avoided. Why? Most often, managers and creatives are so into the project, they want to jump right into it. In turn, it's good to hold your horses yet and look at the project's big picture.
The way to plan the work properly, you should:
Analyse project requirements.
Make sure you understand business goals and objectives.
Understand the end-user and how the project is going to be valuable for them.
Learn about your target group, their obstacles, challenges, needs or desires.
Getting to know the project, planning the results, and learning about people who are supposed to actually use it is vital to coming up with better solutions and design later.
2. Do the research
Planning is not the research, yet. Once you know what your project is really about, what you want to accomplish with it, who's your target audience and what challenges do they face, you can look for possible solutions.
Your research can tackle four different areas:
Look for companies offering similar product or service – what is their messaging, their website, do they communicate their offer in any unique way?
Get to know the trends – UX design has its trends, too. Learn about them and think of ways to incorporate the learnings in your design.
Test your assumptions – at this stage, you can start asking others (stakeholders, friends, your target audience) about your idea, so you can test hypotheses before even starting the work.
Organise kick-off meeting – the reason behind this meeting is to discover the project's goals, objectives, come up with possible solutions, and to get to know each other better.
For the research purposes, you can make use of:
Interviews
Surveys
Observation
If you're developing new features for an existing product or service, you can add usability testing or user/focus groups to better understand how people interact with it now.
3. Analyse what you've learned
Now, you should take a moment to sum up what you've already learned about the project: your competitors, trends, the users.
Putting it all together gives you a better overview of who you're talking to about your project, how they use similar products, what you can do better than other companies to attract customers.
And what is the better way to do it, than to use a user persona? We all know them, some hate them, and too often people skip them. The latter should not be the case with your project.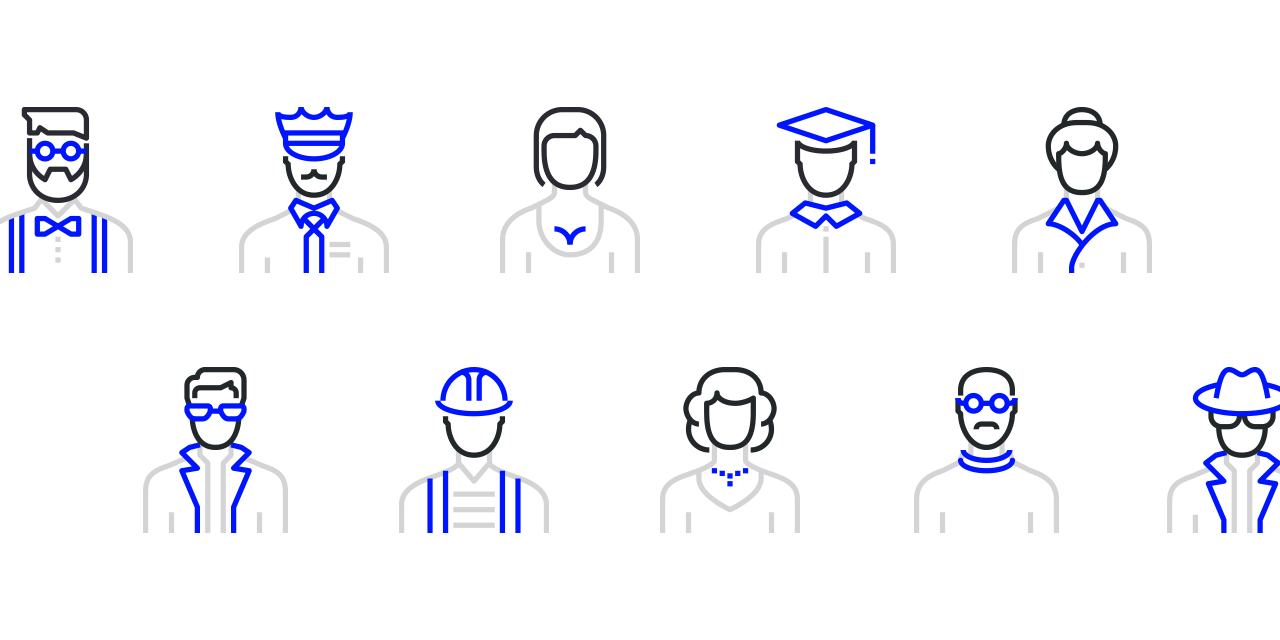 The reason for creating a user persona is to make your message – pun intended – personal. Giving your end-users distinctive features and characteristics, and pairing them with certain expectations, needs, fears, or desires, let's you design the product that really 'speaks' to them.
At the end of the day, you design for people, so make your design human.
4. Design your evaluated idea
The reason I added 'evaluated' in this section is that now you can not only design your product based on the initial idea you had – you can put together your big idea and the findings you learned during the research and analysis stages.
Remember that we talk about UX design in this article, so forget the fancy stuff like images or icons. The mission here is to create interactions and user flows that will assure the best experience for your users – hence, pardon me again, user experience.
So how to approach UX design at this stage?
UX design is collaborative – invite others to join the project to give their feedback and share ideas.
UX design is iterative – sometimes, while designing, you will discover something that will force you to take a step back and do things differently. Or you'll get the feedback that will require some changes. It's fine, as long as it serves to create the best experience for your target audience.
UX design outcomes and deliverables include:
Workflows
Wireframes
Prototypes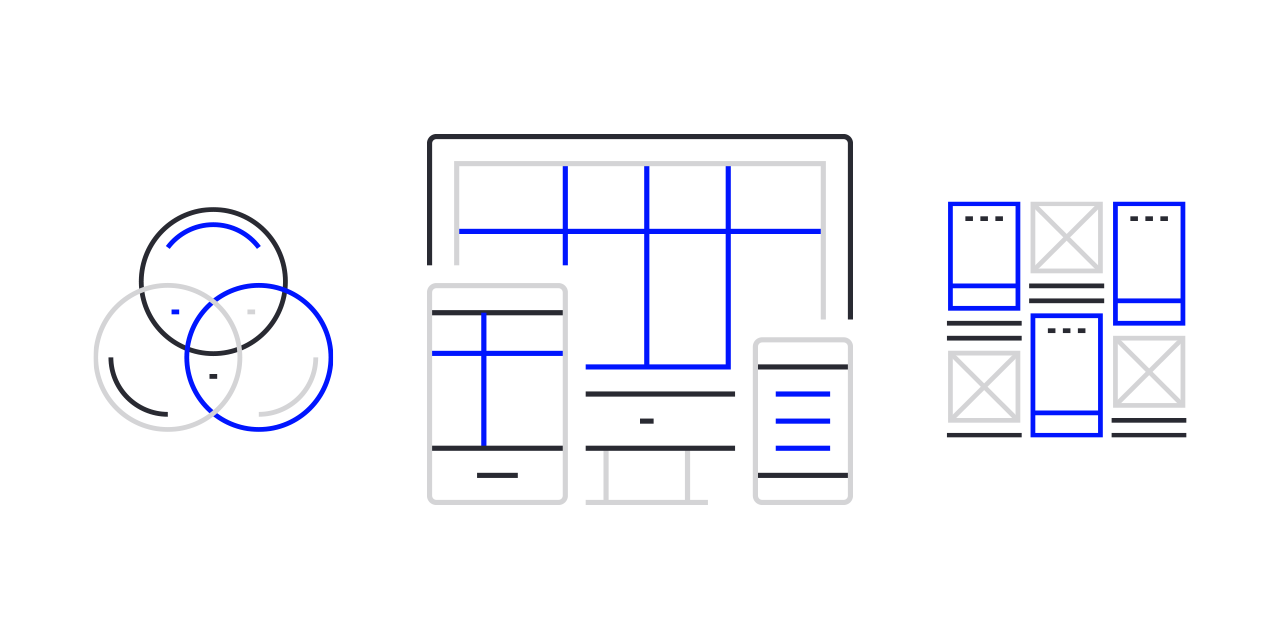 5. Launch your product
In the UX design process, the launch can be associated with production. At this stage, your design is ready to be implemented by UI designers, who will add images, colours, and icons.
After the high-fidelity version of the product is ready, you can test it again, review, get feedback and refine. If the outcome meets the requirements, the developers take the design over for implementation and QA tests.
Another form of launching the project is deploying the prototype, which can then be used for presentation, either for stakeholders, or beta users. Then, the prototype can be used for creating the UI, too.
6. Evaluate and test (again)
Did I mention that UX design is an iterative process? After the successful project implementation, you can do two things:
Continue with gathering feedback from your actual users.
Ask your team about the process.
The reason for gathering feedback from your users is that you can now compare the hypotheses and assumptions you worked on with focus groups and beta users with experiences people have while interacting with a real product.
You can use this feedback to update your product or to come up with new features you may haven't had thought of before.
Asking your team about the process, on the other hand, lets you improve your internal processes and do better work in the future, as you learn from each other's experiences.
Follow proven UX design process steps
Need a hand with UX design? At ExtraHut, we emphasise a great design and usability, offering UI/UX services, no matter the industry, device or technology. Fancy to have a chat?