Unexpected hunger can catch us in every situation – at work, at a party, or while commuting. With food delivery apps, it's way more convenient to quickly search through delicious meals and order food while on the go. It's no wonder that food delivery services are so popular worldwide.
When designing a food delivery app, you must start with competition research, as this is already a very crowded niche. And what better example could we use to begin, than Foodpanda?
Here's why:
With an HQ in Berlin, Germany, Foodpanda operates in 190 cities in 12 countries.
The company raised a total of $318 million in venture capital.
In 2017, the company underwent a significant re-branding.
Founded in 2014, Foodpanda was later acquired by DeliveryHero, an international food-delivery company. Today, their riders in eye-catching, neon pink anoraks deliver food from 27,000 partner restaurants in Central Europe and Asia.
Reaching that many users in these markets, the company has to have it all sorted out when it comes to satisfying customers with their service.
In this article, I will use their app as an example of how to design a food delivery application that drives sales and wins users' loyalty.
Why UI/UX design matters for food delivery services?
We can't really talk about UI/UX design for food delivery services until we understand how user experience design – if done right – can impact sales and user engagement.
Let's start with something I've mentioned at the beginning. Food delivery is an already crowded industry, with the likes of UberEats, Grubhub, and Foodpanda to name just a few. Add many local online services to the list, and you already have a picture of how big the competition is.
Great UI/UX helps you stand out from the crowd and makes people come back for more (food in this case).
Another thing is time – hungry people don't have it. Have you ever heard the word "hangry"? It's a literary combo-meal of hungry and angry, and means "becoming angry because you are feeling hungry". For food delivery apps, they have to make it super easy to find and filter food and place the order.
In the end, you have to know that your users are impatient beasts when it comes to food ordering. Consider adding information such as delivery time and live delivery tracking, so people can see how the food finds its way to their places (and stomachs).
Again, user experience design will tell you how to do it right, without confusing your users. And with beautiful UI, you'll win their hearts, too.
5 Design Lessons from Foodpanda
1. Be different
What screams Foodpanda right away, is their signature pink branding. Why is it different?
Usually, food delivery services use colours that say "food" right away, like red, green, or yellow. I don't mention these colours coincidentally, as there's a psychology behind them - UX designers use such colours as they excite the appetite of the user.

Foodpanda pink logo. Source: Wikipedia
Foodpanda uses none of these colours. Instead, together with its sister company Foodora, they use neon pink consistently across all of their channels. The effect – eye-catching branding used on the website, in the app, and on the vehicles and riders' pink jackets make the brand highly visible and recognisable.
2. Use high-quality photos
This should be obvious for everyone even thinking about starting a food delivery service, but I've seen enough lousy product and food photography on such services to let this slide.
People rely heavily on their sight. If they like something for how it looks, other information may not have that strong an impact on the decision-making process.
When it comes to food delivery – make it look delicious, so your users crave the food only by looking at the pictures of it.
"We want our customers to enjoy good food anywhere they are and fill their everyday with deliciousness" - reads Foodpanda's press kit. They emphasise this not only in their messaging but in their pictures, too.
3. Make it easy to use
Have you ever ordered food at work? If yes, you know exactly how hard it sometimes is for people to decide what meal they want. That's why you should help them with decision-making with your app. The easier it is to find delicious-looking food in your service, the higher the chances users will come back for more.
Making an app easy to use requires user experience research and discovering the user journey of your target audience. What makes them buy? What food do they like?
Then, include an onboarding process that explains quickly how to filter different offers, how to make a purchase, and how to tell when the food will be delivered.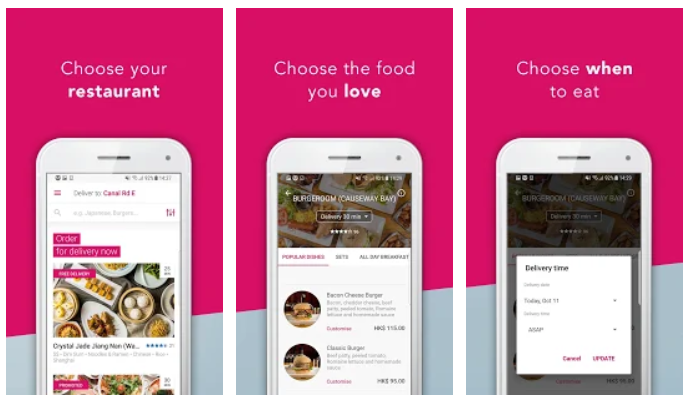 Foodpanda app views on GooglePlay.
4. Use social proof
Creating a mobile app for food delivery service conversions are your top concern. In marketing and sales jargon, conversion is when the user takes a desired action, be it signing up for a newsletter, downloading a promotional material, or – like in this case - a purchase.
How to persuade people to order with your app? Great design and tasty-looking pictures help, but frankly that's not enough.
To increase conversions of your food delivery app, use the power of social proof. It has been proven that people, when uncertain about something, turn to other people's opinions and choices. How many times have you looked up reviews online while making a buying decision? That's exactly how compelling social proof is.
A food delivery app can use different types of social proof, with client comments and star reviews being two most commonly used. Yes, Foodpanda uses them, too.
5. Make it even easier to pay
The growing adoption of mobile payments worldwide allow us to pay for goods and services quickly and safely using our apps. The same goes for food delivery services.
Research such as the User Challenges and Successes with Mobile Payments in North America study have found that to positively affect users' attitudes towards mobile payments, it has to offer "perceived ease of use, compatibility, security, and usefulness".
Trust issues also have been named one of the restraints against the use of mobile payments.
When adding a mobile payment service, use options with which people are familiar and are easiest to use. It will reduce the friction of completing the order, increasing sales and user satisfaction.
6. Allow live delivery tracking
After completing the payment, the user should be able to:
See an approximate time of the delivery.
See the route of the delivery updated in real-time.
Waiting for food is often exciting. The promise of calming the hunger or just having this delicious meal you craved since waking up can soon be fulfilled.
Adding a map with live delivery tracking to your food delivery application is most-certainly a must.
Summary
In designing a food delivery app, you first need to know basic rules and research some of your competition. Then, you can learn more about your users with a user experience design: who they are, where they buy food, what they like, how to reach them, and how to persuade them to use your service.
Only then will you be able to create an app that will attract loyal users.
Key takeaways:
Learn the rules – and then break some of them. Be different and learn how to stand out from the crowd.
Do the research, first – user experience research is the foundation of learning about your target audience's habits and cravings.
Make it beautiful – people judge by the cover. If it looks good, the higher the chances they will try it. Invest in UI design if you want to be successful.
Make it easy to use – users don't have the patience of learning new services or apps. If something comes hard to comprehend, they won't use it.
With these tips and lessons learned from analysing how Foodpanda designed their app, you're a step closer to creating your own food delivery application.
Need a hand with UI/UX design? Talk to us, as we're experts in designing beautiful and usable products and services.