A design world is full of surprises. It's always changing and developing, with trends and technology continuing to evolve.
No wonder that it can be quite confusing for a layman. And don't even get me started on different types of designers. Graphic designer, motion graphic designers, UX designer... Who the heck are they and what is their job?
If you're currently struggling to find the right people to design your project, it's not at all surprising that you may find this plethora of specialists quite overwhelming, especially with their overlapping responsibilities. After all, finding the best person for a designer role can be a challenge.
However, worry not, here I come to the rescue! With my list of the most popular types of designers, you'll find it easy to make the best choice.
Types of Designers You Might Need for a Project
UX designer, UI designer, graphic designer - so many different roles, so many different responsibilities. What's the difference and who may you need to support your project?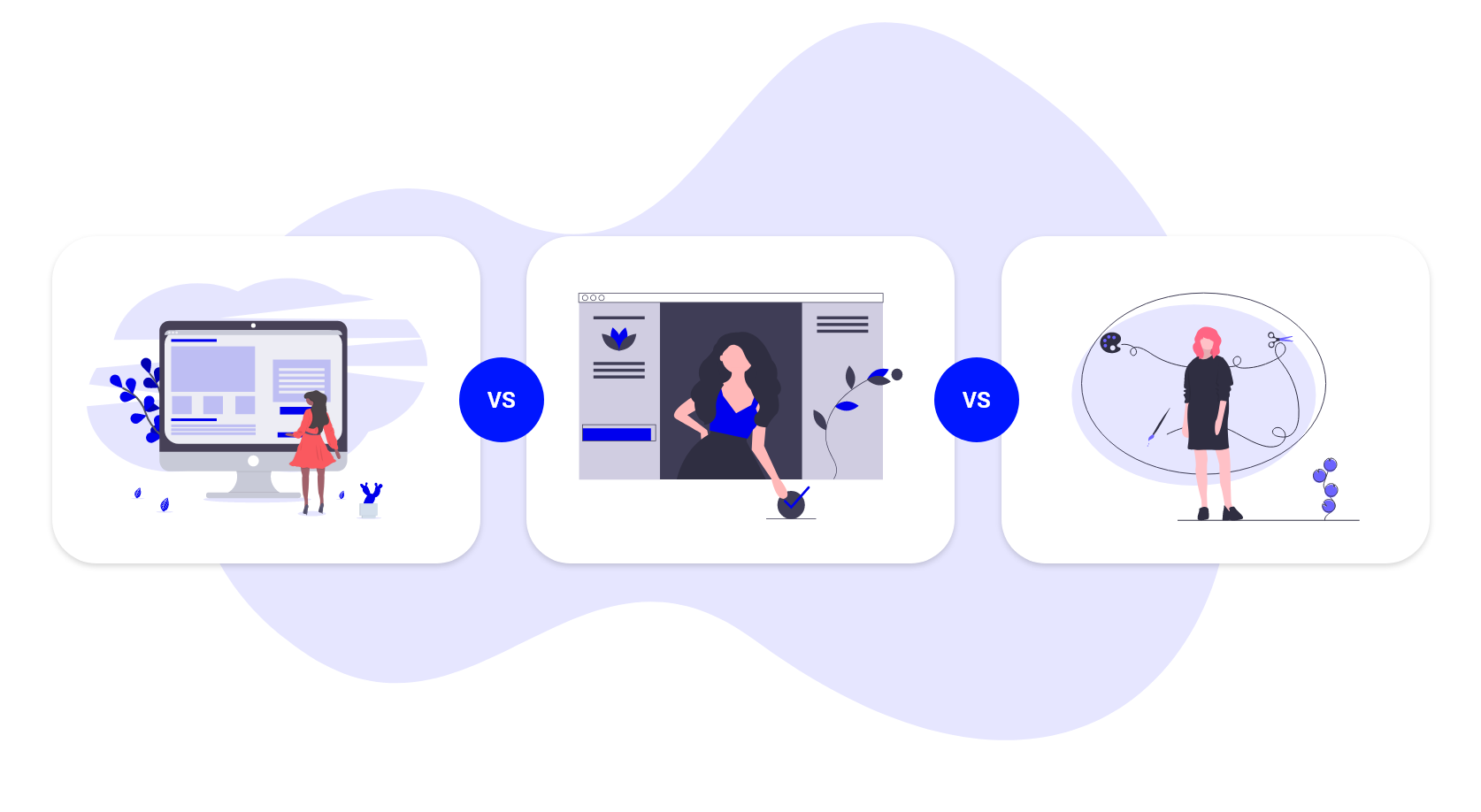 User Experience (UX) Designer
As the name clearly suggests, UX designer is responsible for creating User Experience. But what exactly is it and why do we even need it? Let me explain.
Even though the term "UX" has been on everybody's lips, it's still a vastly misunderstood concept. In human-system interaction, user experience is defined as "a person's perceptions and responses that result from the use or anticipated use of a product, system or service."
User Experience designers focus on the logic and structure of the elements you actually see and interact with. They design interactions between the user and the digital product, analyse and evaluate the customer's experience, conduct usability tests and create user flows and prototypes, and last but not least, make sure the experience caters to all of the client's needs.
They analyse the following aspects: the users, their beliefs, behaviours, emotions, preferences, perceptions, physical and psychological responses, and accomplishments that occur before, during, and after the use, to provide the users with the best possible experience.
User Interface (UI) Designer
Let's dive deeper into the design world. And buckle up, we're entering a land of confusion. UX, UI, aren't they the same thing?
UX and UI are widely mistaken. To help you understand the difference, allow me to quote Emil Lamprecht, who states "while user experience is a conglomeration of tasks focused on the optimization of a product for effective and enjoyable use, user interface design is its complement; the look and feel, the presentation and interactivity of a product."

Simply speaking, user interface designer focuses on the process of making interfaces in software or computerized devices with a focus on looks or style. UI designer creates designs that users will find easy to use, logical and enjoyable.
And what are their exact responsibilities? UI designers focus on how people navigate the product, create all the visual, interactive elements of a product interface—including buttons, icons, spacing, typography, colour schemes, and responsive design.
Graphic Designer
Graphic design is what most people think of when defining design. No wonder why, it's the easiest to observe and understand.
In comparison to UX and UI design, graphic design is the closest to what most people would consider art. Picking colours, designing logos, choosing images... The Fun Stuff.
However, we must not underestimate the importance of graphic designers. They also play a key role in creating the visual identity of a brand or product. Their task is to support you in presenting your company by creating all kinds of marketing materials.
They use typography, colour, and images to bring your concept to life and convey your message. By using visually appealing elements and creating consistent branding, graphic designers attract customers' attention.
Motion Graphics Designer
Ready to go even deeper into the rabbit hole? Great, let me explain the twist and turns of motion graphics.

Before motion graphics existed, graphic design elements only existed in a flat and still format. Now it's possible to put them into motion.
Motion graphic designers' responsibility is to bring movement to otherwise static graphic elements by using 2D and 3D animation effects. By designing graphics that are in motion, they sweeten the pot and diversify the look of the product.
Front-End Designer
Haven't ever heard about front-end designers? Worry not, this term is quite a novelty.
It emerged from the need to name a specialist who as a graphic designer understands front-end development. Front-end designers combine the key components of these jobs; they can create innovative designs and consistent branding but also code.
Front-end designers should have a solid understanding of CSS, HTML, and JavaScript code. Knowledge of how these work helps them to better understand the limitations of designing for web applications.
Hiring a front-end designer, you can expect both great visual design and code.
Interaction Designer
As defined by Nick Babich, interaction design, also known as IxD, is the practice of designing interactive digital products and services. As John Kolko, the author of Thoughts on Interaction Design, states: "Interaction Design is the creation of a dialogue between a person and a product, system, or service. This dialogue is both physical and emotional in nature and is manifested in the interplay between form, function, and technology as experienced over time."
Interaction designers are focused on the exact moment when a user interacts with a product. They work together with other designers (UX and visual designers) to ensure that all interaction patterns are implemented correctly in a product.
They also design strategy by defining target users' needs and goals and create prototypes to present the possible interactions.

Making the Right Choice
Hopefully, I managed to explain all the twists and turns of different types of designers.
However, I want to add one more thing. Many of the designer jobs overlap depending on each person's interests and training. Don't discard someone simply because their job title doesn't say specifically what you want. If you need the support of a well-prepared and proven provider, one of the sister companies, Human offers UI, UX and design services and has all the specialists and knowledge you need to succeed. 
Having that in mind, it will be easier for you to make the right choice and hire a designer that meets your needs and requirements.