IoT product design is omnipresent. It remains unnoticed, but it has the power to work around us.
The Internet of Things operates in what can almost be described as a parallel technological existence, working behind the scenes, and empowering our lives.
Whether your app or product is business-minded, money-making, or life-improving – to succeed in the IoT dimension means adhering to anew dimension of rules.
The Principles of IoT Products

Like the self-conscious system it is, the IoT forms around a set of 4 principles, they are:
Interoperability
Information Transparency
Technical Assistance
Decentralised Decisions


Now that we have a defined mindset, how do we create the darned thing?
IoT Product Design
While keeping in mind the complexity of IoT devices, you should set aside some of that sweet, sweet R&D budget towards making your creation.
Basic systems only adhere to mechanical and product design. In fact, in an analogue world, that's what's needed. A more advanced system would require controller design, half-wave and full-wave development.
As you can see, not only is the mindset much broader for IoT products, but it requires a level of know-how unlike anything a mere mortal can handle. Remember, the IoT encompasses Big Data, Analytics, and Prescriptive Analytics in products. Therefore it requires specialists from several unique fields.
So, if you haven't guessed before, you can get an idea of the resources expected. But how's about we get specific?
Scale of Production
Considerable know-how from across the technological pool is the key to your success. Capturing and nurturing that talent can,of course,be tough. And any creative measures can almost certainly be measured in money.
If you face a shortage of available staff, then you're not alone. According to EY, Europe is facing an IT talent shortage. This dilemma worsens when seeking full-time specialists. And when time comes to negotiating pay - the smaller the niche, the higher their bargaining power.
But with this problem, came a solution. Companies are increasingly referring to the expertise of specialist IT and UX companies. Not only do such companies bring verified experience to the table,but they are also affordable for many tech start-ups.
These solutions vary, from web to mobile and app development, to data analytics and security. Once your staff is in-place. You should consider your approach to creating the ultimate tool of tomorrow.
Let's take a soul search.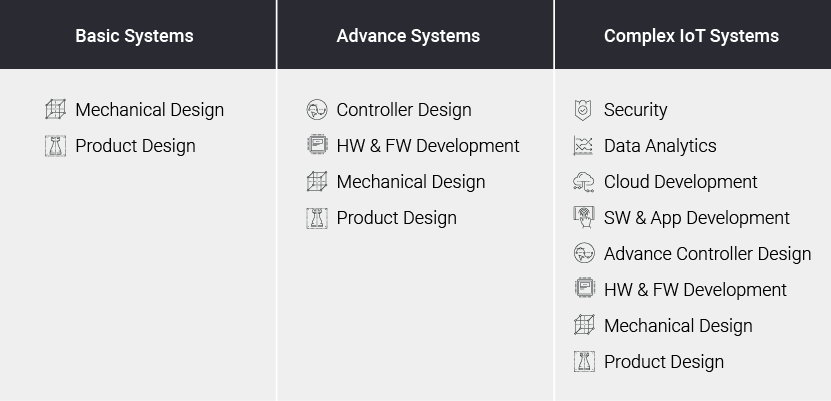 Design Methodology – Questions You Should Ask
1. What do my users want?
Extensive and comprehensive understanding. Attainable through careful market research. Pick your method, gather your results, and make that bold judgement.
2. What goals are they trying to achieve?
By answering the previous question, you can determine the answer to this one more intricately. Each business entity or individual user has specific objectives.
3. What kinds of components will I need?
Consider the materials you'll be putting together, to build your technological marvel. But more importantly, how will people take to it?How will it work for the average Joe and Josephine?
UX Point of View
Many people are fascinated with the latest, greatest, and 'shiniest' in new technology. But it's easy to get love struck and lose track of the bigger, or 'realistic' picture. Having said that, forget 'bigger'.
Make your product something to which the user can easily accustom. Consider this, what features do people find familiar? Are users expecting to locate the 'on switch' at the top of the device, or somewhere hidden?
There's no sense trying to create something revolutionary if it takes extra effort for people to recognise and understand it. New inventions need to be straightforward. Keep things simple.
As the saying goes, "If it ain't broke – don't fix it."
For bonus points, draw inspiration from older versions of your product family. Some of the best products take cues from their predecessors, if not functionally, then sometimes just aesthetically. Of course, the physical attributes are another talking point.
You can also read our previous article on how to not overdesign your project.
Technical Point of View
Usability and user experience are an equally important discipline in the IoT product design.
One important area to remember is support for networking protocols. As in, are they ready to work with present and future infrastructure?
Another such area to regard is its power source. Some IoT devices work well on their own, using solar, wind, or long-life battery, while others are dependent on the power grid. IoT devices frequently operate in groups. If this applies, then be sure to consider their arrangements. Are they positioned within a single office, or across an industrial campus? As with some grand-scale applications, they may even deploy across cities. Whether they're in close formation, or widely spread, be sure to take this into account when making your designs.
Noteworthy Smart IoT Products
These, of course, are just some of the tips you might find floating around in cyberspace.
But I'm sure successful products are adhering to the above principles. Some tech ventures make great strides in designing their products.
Here are four great examples of good IoT product design. I'll give you a brief description, and why it's okay.
Tibber
This Stockholm-based EnergyTech startup produces IoT devices aimed at monitoring and curtailing energy consumption for a wide variety of connected items.
The Tibber device range offers utility support for amenities within the home. They range from thermostats to floor heating control panels, to electric car charging points.
From a physical design standpoint, the devices are aesthetically modern, yet simplistic. Functionally, they are interconnected with household utilities, providing users with conveniences such as insight for off-peak periods, thereby encouraging the use of appliances during this time.
Providing temperature information comes through connected thermometers. This in-turn powers thermostats and heating panels to regulate autonomously, without consuming excess energy.
These solutions, also mobile-connected, have the benefit of curtailing energy expenses for household consumers on a systematic scale – and with good-looking Scandinavian simplicity too!
Watty
Energy level monitoring, usage analytics,and notifications of idle devices. These are all go-to aspects of a convenient future.
By using real-time information from connected appliances, Watty users can get insight into which items are running, for how long they're operating, and at what times. A product such as this reminds us that IoT products are only as reliable as the accuracy of the information provided. This application provides users with the tools they need to make informed decisions on their use of electricity.
The AI technology comprises of a simplified receiver unit, resembling a modern utility box, and operates similarly to that of a wireless router.
The beauty in design for this particular product is more to do with its connectivity or omni-presence. While connecting to household IoT appliances, it can then transmit information, real-time, to a user's mobile device.
Relayr
The IoT, of course, extends beyond the residential dwelling. The power of the network can scale over large companies and even industries. The case of Relayr, we take the concept of universal connectivity and apply it to industrial equipment, machines, and production lines. This concept too has a name, dubbed the Industrial Internet of Things (IIoT).
It too is AI-based with advanced notifications alerting management of impending malfunctions to critical equipment and infrastructure.
In all, the technology consists of:
Activity – Tracing Learning and recording the precise actions taken by specified equipment.
Root Cause Analysis – Investigation and identification of precise instances and circumstances of malfunction.
Predictive Maintenance – Advanced scheduling and execution of autonomous repairs of equipment.
Machine Downtime Forecasting – Forward planning of scheduled maintenance times, with coordination designed to minimise process impacts.
Elevator System Maintenance – Proactive repairs scheduling and identification of elevators across large properties.
With connectivity across all devices, comes a further step in IoT design. That stage is business-minded, and uses the provided information to present into charts, graphics, and interactive dashboards. It serves as a great reminder that IoT design is nothing without a clear presentation of solutions to the end user.
Relayr, for instance, excels in this case.
Tink
Tink is a German e-Commerce platform, serving as a one-stop marketplace for IoT products.
With a plethora of name brands, best known for their range of non-IoT appliances, the products here each serve their users with home-centric conveniences.
Among the product categories within are: homewares, health, security, and lifestyle.
From electronics to installation, this site does not endorse a single product. Rather, it paves the way to the process of IoT to prospective users, making this a very useful tool in introducing these breakthrough technologies to customers.
To Make a Breakthrough, You Must Break-Through
At this point, you may be thinking, where do I go from here?
With the right kind of mindset and methodology, you're more than certain to begin. But as with a good tennis serve, you must follow through.
That means, don't stop the effort and collaboration, once the project gets off the ground. Your departments and new talent must keep in close contact throughout the project, to ensure smooth follow ups, check-ups, and upgrades to your breakthrough tech endeavour.
According to a 2017 Cisco report,60% of new IoT project initiatives stall at the Proof of Concept Stage.And according to surveyed companies from the same study, only 26% of respondents consider their initiatives to be a complete success. These eye-watering figures should intimidate the unprepared.
But behind these shocking facts, is a shared truth. The companies hadn't lost enthusiasm or effort. The culprit, is the human-factor on the business side. Remedies therefore, are a must!
Approaching IoT Product Design: Here's What You Can Do
Keep people in contact!
The IT and Business-Side may see things differently, but that's all the more reason to synergise these departments. According to the Cisco study, a staggering 54% of respondents listed 'Collaboration' as the crucial success factor for IoT product design and development.
Cultivate a digital culture
Nurturing a technology-minded philosophy within the organisation will motivate your team. It is what unites your talent, and with IoT products making such a breakthrough to our daily lives, the reasoning behind development should be profound.
Get the experts you need
As I stated before, many companies struggle to attain the know-how, let alone keep them on-board in such a competitive market.
A viable solution would be to seek out expert assistance. Find one of the product design companies, with people you can trust – and request the help you need.
Talent is in short supply, but once you source it, they'll crew you to new heights of success. Now, focus on IoT product design – and go change the world!