When taking on a major project, you're more than likely going to need some external assistance, it sounds like a simple choice between three superheroes: Freelancer, Design Studio, or Agency.
Indeed, they differ greatly, that it's easy to distinguish one from the others. All vary in size and ability. Therefore, if you're looking for assistance in your next major game changer, consider the following:
What's the budget of your project?
How large is your project?
Do you expect a high frequency of attention and contact?
Is there a scope to your project, and wider strategy?
All these pressing questions, among others, will have a direct impact on which would be most beneficial for you. Before we get into this, I'd like to explain these three main drivers, each of which is splendidly engineered to help (super)power your project.
Select Your Player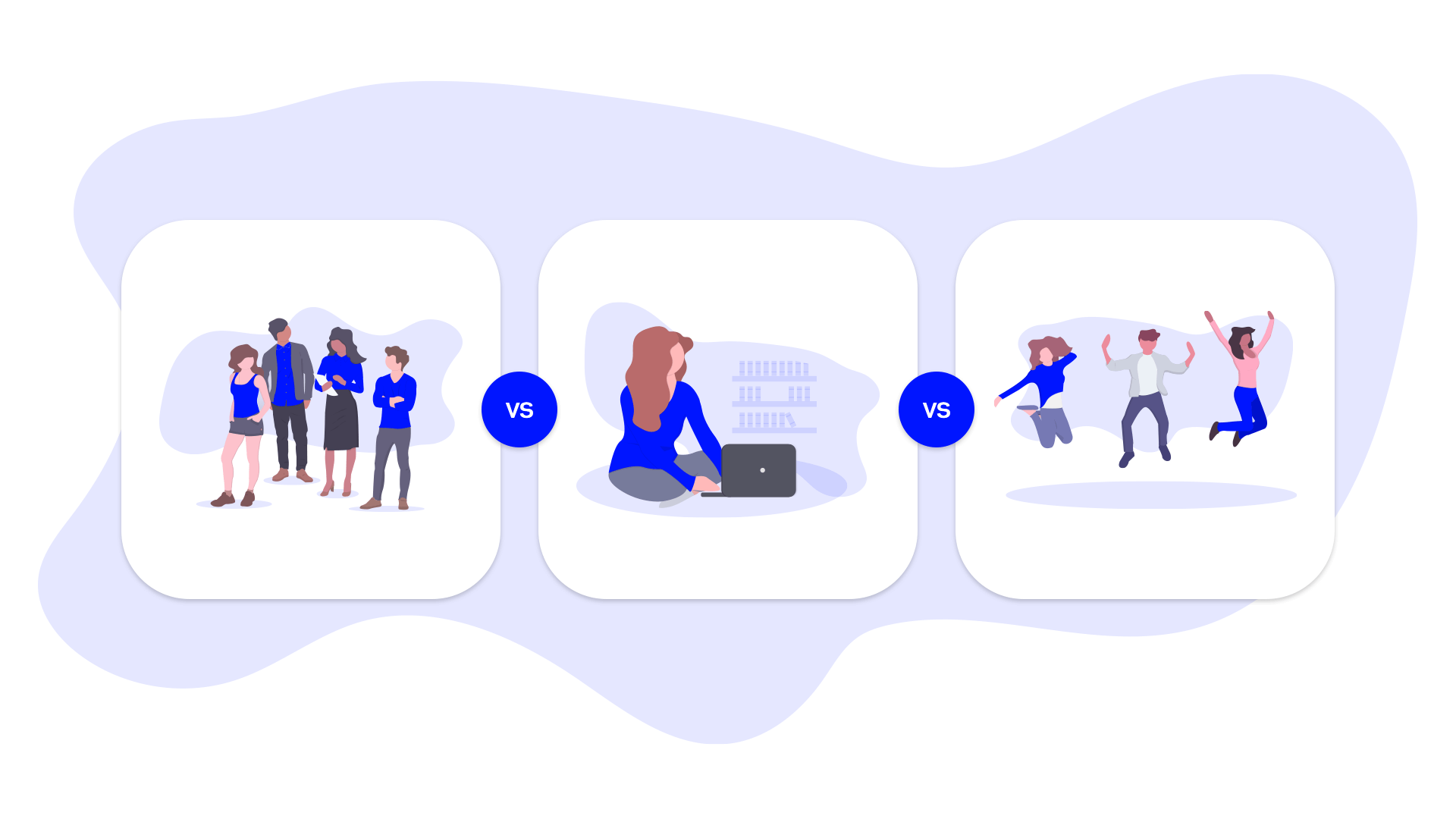 Freelancer
This individual is highly skilled. Their niche can be specific, and they may even excel at it. What makes freelancers a go-to, are their competencies. This especially applies to: web design, copywriting, and graphic design.
While they focus on their craft, this may mean they see everything from the perspective of their project, not the bigger picture. This is not a bad thing – but is something to keep in mind. Hire them on a per-project basis.
Design Studio
Imagine a group of talented individuals, combining their strengths in attaining a specified goal. This is one such way of describing a design studio. They are niche, in that they provide branding, web design, or reaching SEO-utopia.
These go-getters take on a core competency. But as a group dealing in specifics, they often subcontract some of the more minor project elements, such as photography. This option is favoured by modest-sized companies. Hire them on a retainer or per-project basis.
Agency
They handle everything – for a price, of course. With a larger squad of specialists, an agency will handle everything in-house. From realising of concepts to delivery. Many large agencies span beyond borders, meaning an ambitious campaign can truly extend across the world.
The right agency should provide a brand with everything it needs. Billing is often made on a retainer basis. Hire them for large individual campaigns, or for extended collaboration.
Player Profiles
Everybody has their strength. Some even overlap between players. But in the end, each are good and bad at something. Let's get into some of these in detail, for each of our three options.
Freelancer

Advantages
From a cost perspective, Freelancers are generally lower, with the possibility of negotiation. Depending on the niche, there can be much competition between freelancers gunning for the same project, so you can enjoy some bargaining power.
This means a reduction in overheads. While some larger organisations may layer on fees for certain unforeseen expenses, by hiring a freelancer, you do away with the burdens of health insurance, compulsory contributions to pension schemes, and the likes.
Contact is swift and direct too. Dealing with a specific issue means making a direct call, identifying, deciding, and resolving issues without the need for intermediaries. In this case, projects can wrap up at warp speed.
Dedication runs high with freelancers. When all is said and done, they need your revenue. Reputed freelancers, therefore, are motivated to complete tasks in good time. And unless they stipulate this in pre-project discussions – they should have no limitations in working hours.
Disadvantages
A good freelancer can be reliable, and most are. But some may not be – which can be discerning. Without proper verification, freelancers can suddenly become 'unavailable'. They can be harder to track down as they tend not to have a set business location.
Resting the fate of a key project area in a single person can be risky, especially when you can't verify them. But then again, why aren't you doing this? Always be sure to verify a freelancer by assessing feedback and client reviews.
Freelancers may also lack experience in specific brands and industries. Any such individual with intimate knowledge of automotive, medical imaging, data processing, and zoology would be a treat to find. But chances are they don't exist. In fact, they may need to learn about your brand and background from the ground up. You may, therefore, need to ensure plenty of time before expecting sound results.
Design Studio

Advantages
What could be more powerful than several dedicated individuals with the coordination to undertake a niche? Design studios simply excel in bringing about their core competency.
Want to learn what real SEO optimisation looks like? Check out a design studio.
Need the best possible colour schemes for your new product launch? You can't go wrong with a studio.
Craving good web design? You know who to call.
Design studios have an impeccable dedication and will pull out all the stops to ensure your project takes off. Combining forces mean specified niches are in the hands of motivated experts.
With more people, you may think it would cost more money. That's logical, but in-fact studios offer services for modest-sized projects at reasonable rates.
How easy is it verify a studio? Simple. In this day and age, a big name is no longer the sole qualification of a group of experts. Look into any review site or publication for info on the most competent studios. As a rule of thumb, if they want you to hire them, it should be simple to find them.
Disadvantages
Despite their genius, they lack in certain areas. Studios shine in delivering specific skills. But once they step outside of their core competency, they will need to seek an external expert. In that aspect, yes, they can worry about sourcing the individual – no problem, right?
But who could that possibly be? Sometimes, when that person doesn't prove themselves – the process of sourcing might take a little longer. Smaller studios aren't as well-resourced, but with some patience, they'll find the right contractor.
Agency

Advantages
Welcome to the big leagues. Agencies make things happen, by leveraging size and experience in a wide range of projects and industries. Their track record is transparent and easily verifiable.
Within their four walls lies a wide offering of services from: planning, design, coding, marketing, and even geniuses-in-their-fields, such as social media, content writers, community managers – the list goes on. When you think of an agency, think of a large one-stop-shop that's structured and organised.
Many agencies can be infatuating as the one that got away, that one time – but did you know they're in for a long-term relationship too? That can be very helpful when wanting to ensure brand consistency. When you need expertise at any point, keep them on-hand the same way cigarette companies have their lawyers – on a retainer basis.
As large as they are, they have all the resources under one roof, by leveraging their larger teams, they have the power to complete a comprehensive project all at once. If you doubt the genius of an agency – doubt no more. The success of brands using this agency is easy to track.
In all, agencies are safer, more reliable options. Enough said.
Disadvantages
How deep are your pockets? What discourage many brands from seeking the services of an agency, are the expenses. This, of course, depends on the size of a project, levels of commitment, and other factors. In a sense, quality has a price. A good agency will be sure to prove it.
Depending on the size of the agency, large organisations may react less favourably to last-minute changes. In some cases, an issue may come up, requiring the intervention of several intermediaries. Whilst this may be frustrating, a single point of contact would otherwise be a great solution! If you're seeking out an agency, look for that single point of contact – it would make things easier.
Make Your Decision – Take Victory
Budget will always play a role. But it's not always about the money. Sometimes, your desired partner has a level of expertise that suits you. Your requirements might be flexible, meaning you're open to subcontracting an expert copywriter. Sometimes you may need all hands on deck for your SEO optimisation project. In other cases, you're going all-in, with a tantalising campaign that's only achievable with a large in-house team.
There are three paths to choose, each leading to Eldorado. But depending on your company size, what it is you wish to achieve with your project, and your desired work process – then that'll determine your path.
Freelancers will scale mountains, on a budget, and in spectacular style, but could be hard to spot, or are busy hoisting someone else's flag.
Design Studios will build a tantalising device to drill right through the mountain. But will need help to keep the tunnel intact.
Agencies have the power to level the entire mountain and are loud enough to ensure the world knows about it, for a fee.
The only question that now remains, is what kind of skillset and power do you need to get the job done? Let me know – I'm sure we can work something out.